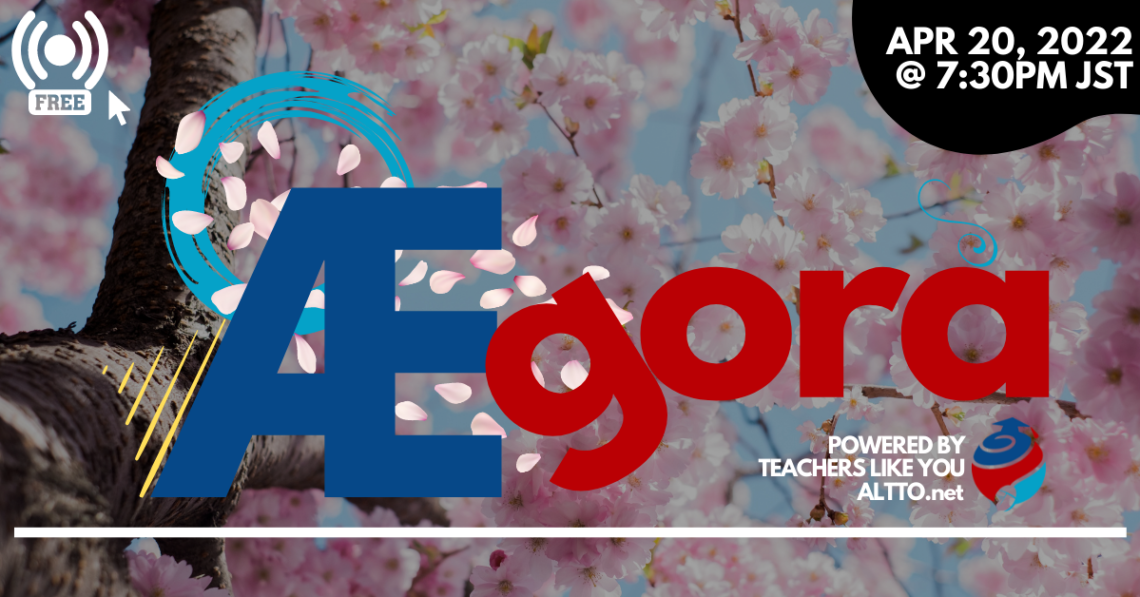 ALT Agorà – April 20, 2022 – Register Now!
April, the month of new beginnings! For many, this will be the first time in the classroom, so now, more than ever, we need to get together and share what we know with our new colleagues! This time it will be on a Wednesday (trying to rotate days to give everyone the chance to attend, albeit occasionally! As usual, we need your help to spread the news about this event so feel free (or should I say, please do!) to share our website and social posts on other platforms / your network. The more the merrier!
As you can see, this month is focused on practice rather than theory. We have three teachers working in the classroom with students and they will share with us their insights and strategies! Hurry up and register to get the link to the event! Free as always!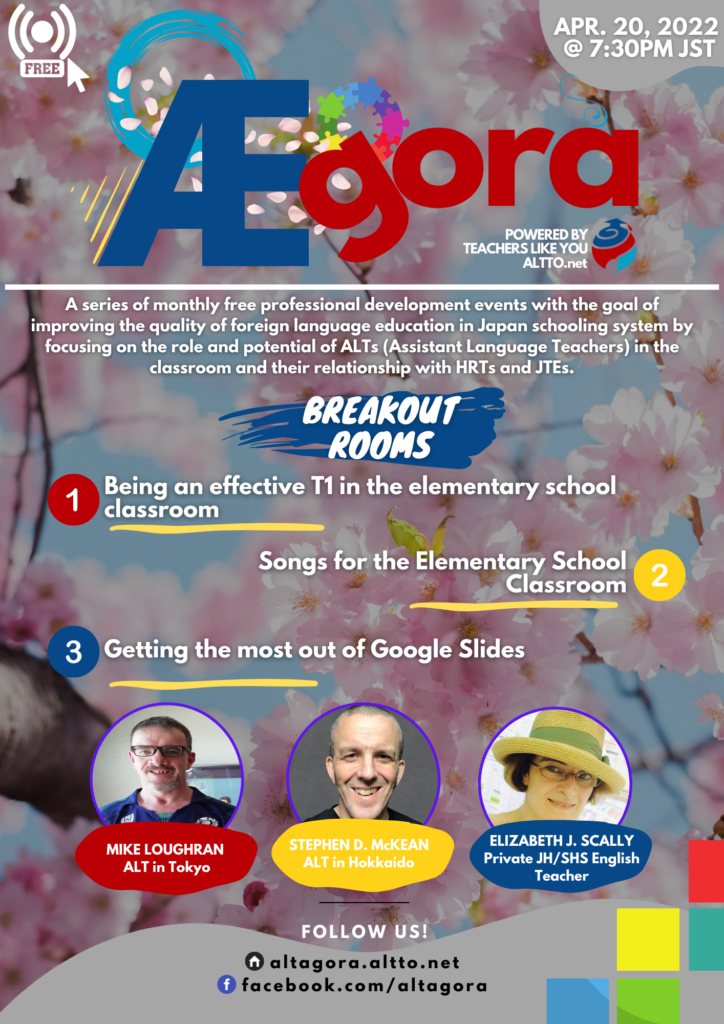 When: Wednesday, April 20, 2022, @7:30pm JST
Where: Zoom CLICK HERE TO REGISTER
***Please update your Zoom software to the latest version**
How to join: the link will be sent to your email address.
Follow us on FB: https://facebook.com/altagora
This month join us to talk about the following topics!
Room 1: Being an effective T1 in the elementary school classroom
Mike Loughran (ALT in Tokyo)
In this breakout room, we will discuss how to create fun lessons through meticulous lesson preparation and clear "in-class" demonstrations. I will also cover multiple classroom activities that integrate: teachers, students, small talk, PowerPoint slides, flashcards, games, and, of course, the blackboard.
Room 2: Songs for the Elementary School Classroom
Stephen D. McKean (ALT in Hokkaido)
Do you want to use songs in your elementary school classes that are not from the textbook… but still relate to it? Or do you want to use more efficient warmup songs? Join Stephen D. McKean as he introduces his YouTube channel, Yakitori English.
Room 3: Getting the most out of Google Slides
Elizabeth Jane Scally (Private JH/SHS English Teacher)
As Japan's public and private schools begin to integrate Information Communication Technology (ICT) into all courses, teachers have opportunities to learn how to use the huge number of online resources available. Slides, Google's free online presentation software, is a powerful tool for presenting rich audio and visual input. Beyond presenting course content to learners, Slides can become a tool for student engagement, classroom management, and teacher collaboration.
The speakers that will join us for this event are: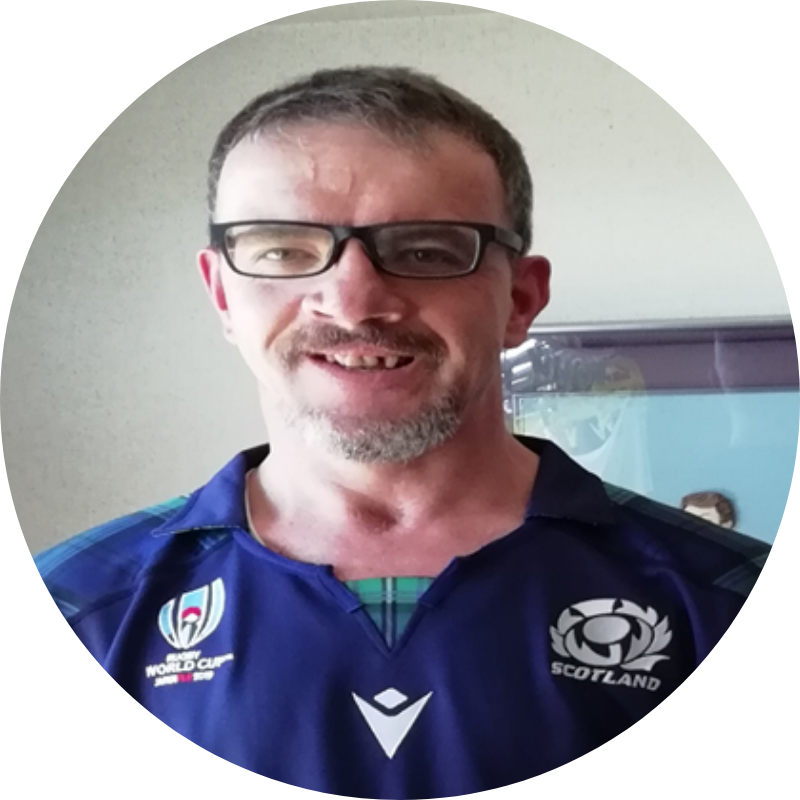 Mike Loughran (ALT in Tokyo)
In 1996 I Graduated with a PhD in Biotechnology from Cranfield University UK. Originally had a very successful career as a Senior University Educator, Biotechnology Researcher, and Team Leader. Conducted extensive advanced biotechnology research that was presented at almost 40 international conferences and published in almost 30 peer-reviewed academic journals. In January 2012, I made a conscious decision to start a new career as an English Teacher in Japan. I currently teach full-time all ages from 1st Grade to 6th Grade in classes of up to 30-38 students in Koto-Ku, Tokyo. I prepare original lesson plans and fun activities using Songs, Flash Cards, Games, and Textbooks. I am usually in the T1 role, while the HRT is a supportive T2 role.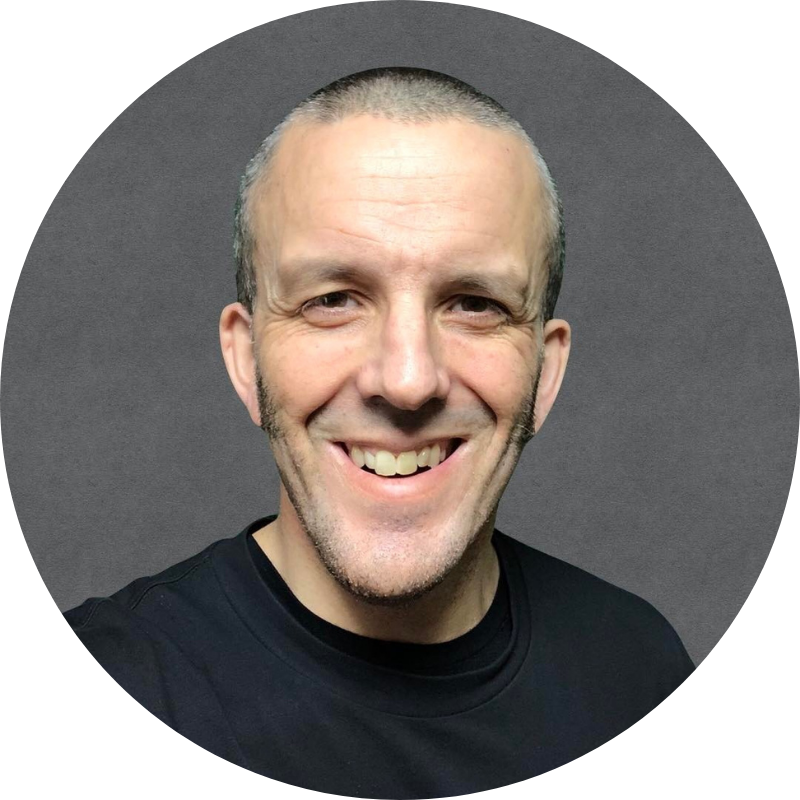 Stephen D. McKean (ALT in Hokkaido) 
Stephen D. McKean has worked in various small fishing towns in Hokkaido since 1999. He now works in Obihiro City and likes snowboarding, pullups, video editing, and music. He also has his own YouTube channel Yakitori English where he uploads his songs.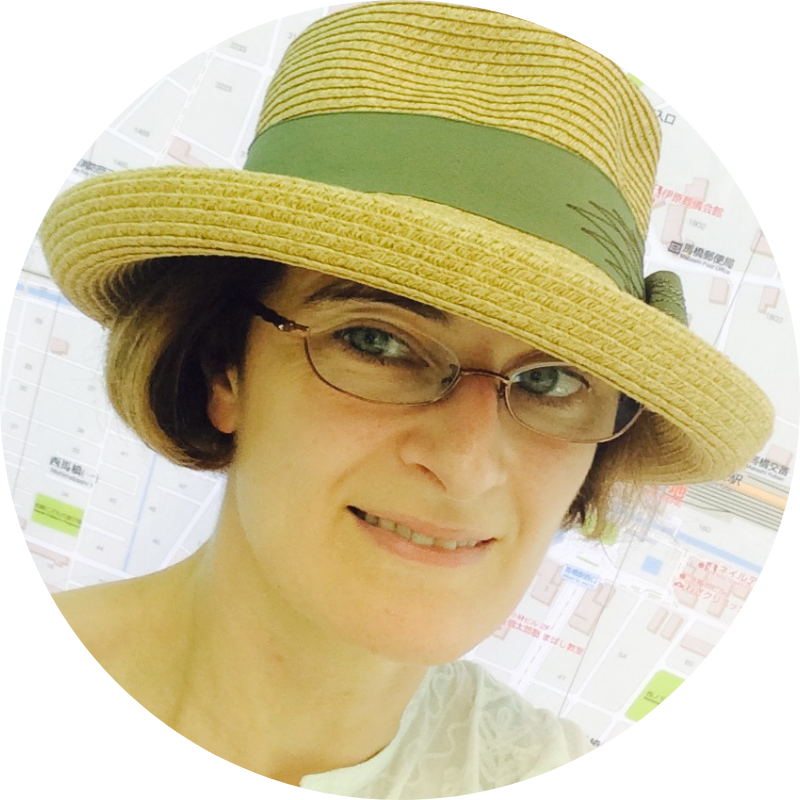 Elizabeth Scally (Private JH/SHS English Teacher)
Elizabeth Scally started teaching ESL in Canada in 1994 primarily to new Canadians and refugees. Since then, she's been a JET Program ALT, program coordinator for municipal boards of education in Japan, and teacher at private high schools. Her focus is on composition and process writing.