ALT Agorà – August 30, 2022 – Register Now!
Our end-of-summer meeting will be on August 30, with everyone back in school and ready to begin again! The second semester tends to be the longest one too, with fall and winter darkening our days. Our mental health is very important, so this month one of the speakers will talk about ways we can defend ourselves from burnout. I want all of us to be able to listen to this, so I have rearranged the schedule: the mental health discussion will open in the main room from 7 pm to 8 pm. Then, we will have our usual breakout room sessions for the remaining time, with two very practical topics you will all be able to apply in your classroom! And the great thing is, these are all ALTs! You all rock! An event completely run by ALTs! Anyway, we should be able to wrap up around 8:45pmish. Apologies for the early start, but the first speaker lives in a different time zone and is really doing his best to join us despite the time difference! See you there!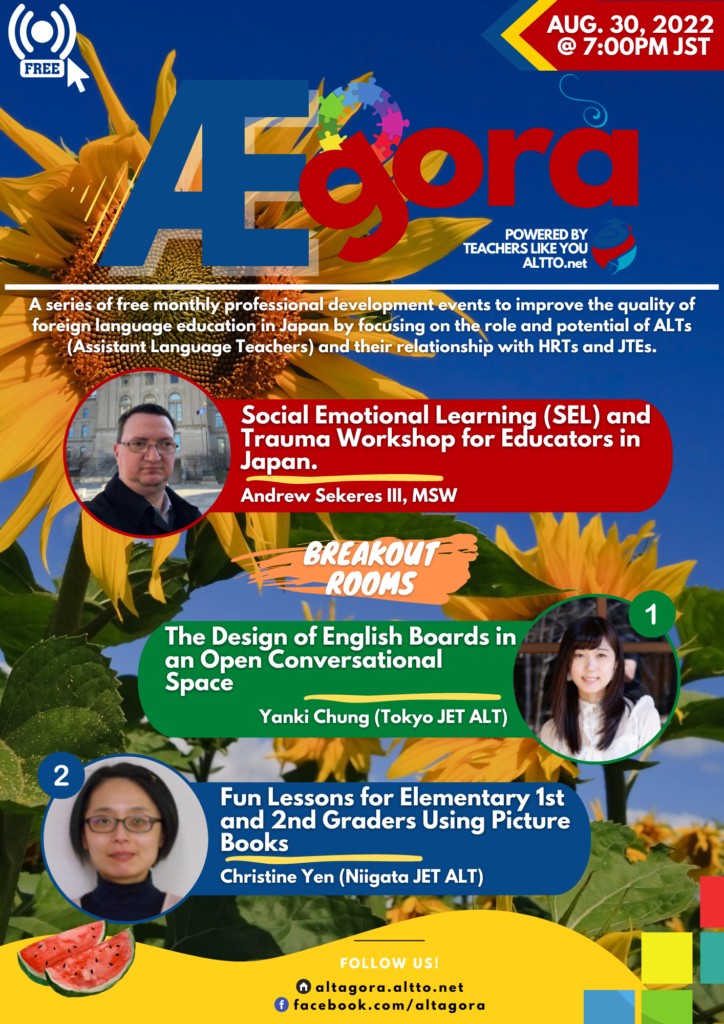 When: Tuesday, August 30, 2022, @7:00 pm JST <= earlier than usual!

Where: Zoom CLICK HERE TO REGISTER

How to join: the link will be sent to your email address.
Follow us on FB: https://facebook.com/altagora
This month join us to talk about the following topics!
MAIN ROOM (7:00pm to 8:00pm)
Social Emotional Learning (SEL) and Trauma Workshop for Educators in Japan.
Andrew Sekeres III, MSW
Assistant language teachers have experienced trauma and burnout throughout the years due to a multitude of factors: lack of job security, struggles with their relationship with their schools, and, at times, not having autonomy in their lessons. While these struggles have always been there for assistant language teachers, the COVID-19 pandemic has exacerbated them. New challenges have been presented due to the pandemic. Anxiety, depression, and trauma have been on the rise throughout society. This presentation is aimed to do things: first, to talk about the trauma and burnout that individuals have been experiencing. Second, the presentation will show how to incorporate mindfulness, self-care, and social-emotional learning in your classrooms and your lives. Within academia, there has been a recent push to include social-emotional learning because the educational system recognizes the trauma that individuals have been experiencing. Assistant language teachers can transform their classrooms into a more inclusive safe space in which everyone is welcomed and listened to. Your teaching will be transformative by incorporating the techniques that will be used in this presentation.
BREAKOUT ROOMS (8:00pm to 8:45pm)
The Design of English Boards in an Open Conversational Space
Yanki Chung (Tokyo JET ALT)
English boards allow students to learn the language outside of regular classroom hours. ALTs, however, are often faced with various barriers when creating these language boards for their students. This session addresses and tackles these barriers, including unmotivated students, time constraints, low budgets, and a lack of artistic skills. The speaker will be sharing her creations, and participants are encouraged to bring their designs and ideas to this interactive presentation. They will be motivated to create or even spice up their English boards at the end of the session.
Fun Lessons for Elementary 1st and 2nd Graders Using Picture Books
Christine Yen (Niigata JET ALT)
Have you thought about using picture books for your lessons but are not sure where to start? In the Reiwa 2 academic year, I had almost total freedom in developing fortnightly lessons for the 1st graders in one of my elementary schools. I would like to introduce my approach and the series of activities I used. I will also talk about the lessons I learned. Let's learn from each other and share our ideas!
The speakers that will join us for this event are: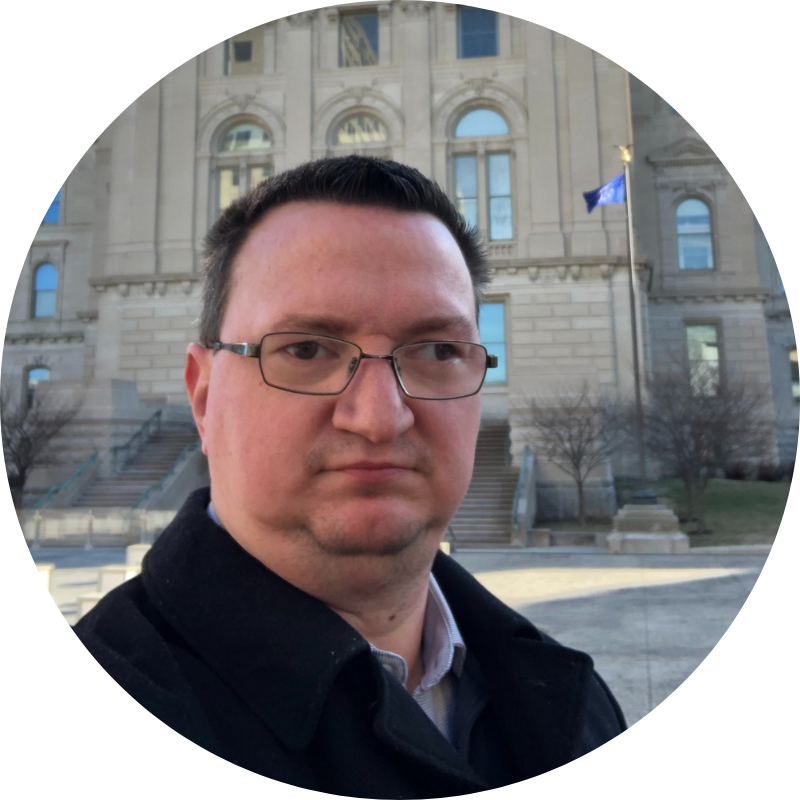 Andrew Sekeres III, MSW
Lives in Columbus, Indiana. Lived and worked in Japan for 12 years (mostly in the Tokai area). Worked as an ALT for 8 years. Graduated from the Indiana University Purdue University Indianapolis with a master's in social work. Worked at a community mental health center for four and a half years. Currently, working for the State of Indiana as a policy developer overseeing the Medicaid program.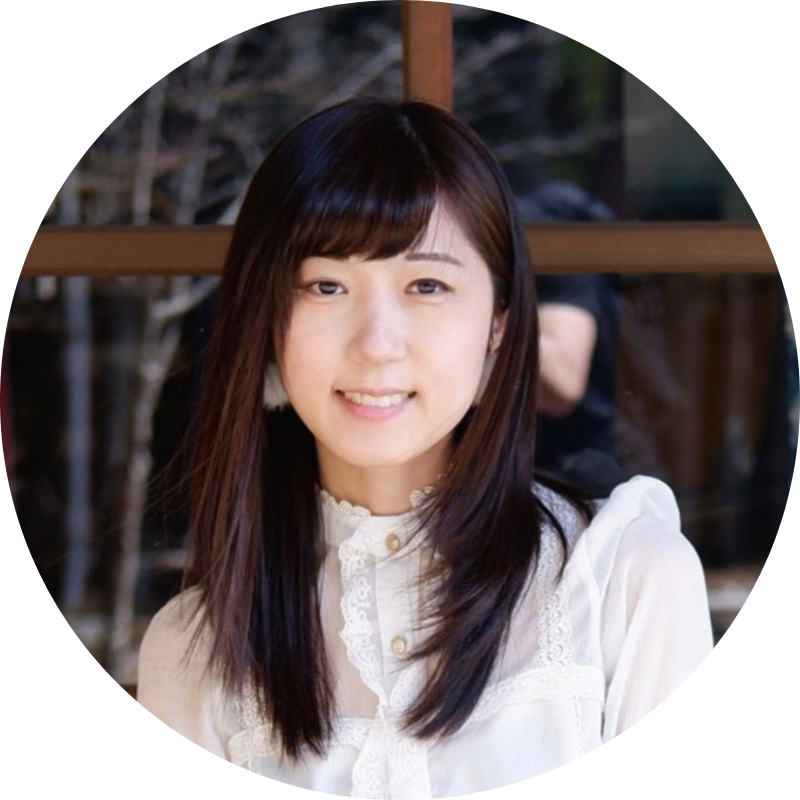 Yanki Chung (Tokyo JET ALT)
Yanki Chung is a Hong Kong Canadian and JET Programme ALT at a public high school under the Tokyo Metropolitan Board of Education. She is also a CELTA-certified teacher.
Christine Yen (Niigata JET ALT)
I've just entered my 4th year as a JET Programme ALT in rural Niigata. I teach at 1 junior high and 3 elementary schools. My background is in health science and the healthcare industry. In my spare time, I enjoy reading and my newfound hobby of visiting michi-no-eki to collect stamps!