ALT Agorà – January 17, 2023 – Register Now!
New year, new beginnings. As vacations end and we all start trudging back happily returning to the classroom, Agorà is here to help you again! This month we have two breakout rooms for you to join — one on ludic activities and using "play" in the classroom, and one on culture shock and how to deal with it; we're sure both will be useful to any teacher. We'll also have some brief words from the ALTTO founder to start things off, so be sure not to miss it!
As we enter 2023, I want to remind you that we're always looking for teachers like you (yes, YOU!) to host a breakout room and share your ideas. Even if you just have a discussion you'd like to start, we believe what you have to say is important, and we want to help you be heard. Get in touch with us and let's show the world what you got!
When: Tuesday, January 17, 2023, @7:30 pm JST
Where: Online CLICK HERE TO REGISTER

How to join: you will receive the link the day before the event (or on the same day!).
Follow us on FB: https://facebook.com/altagora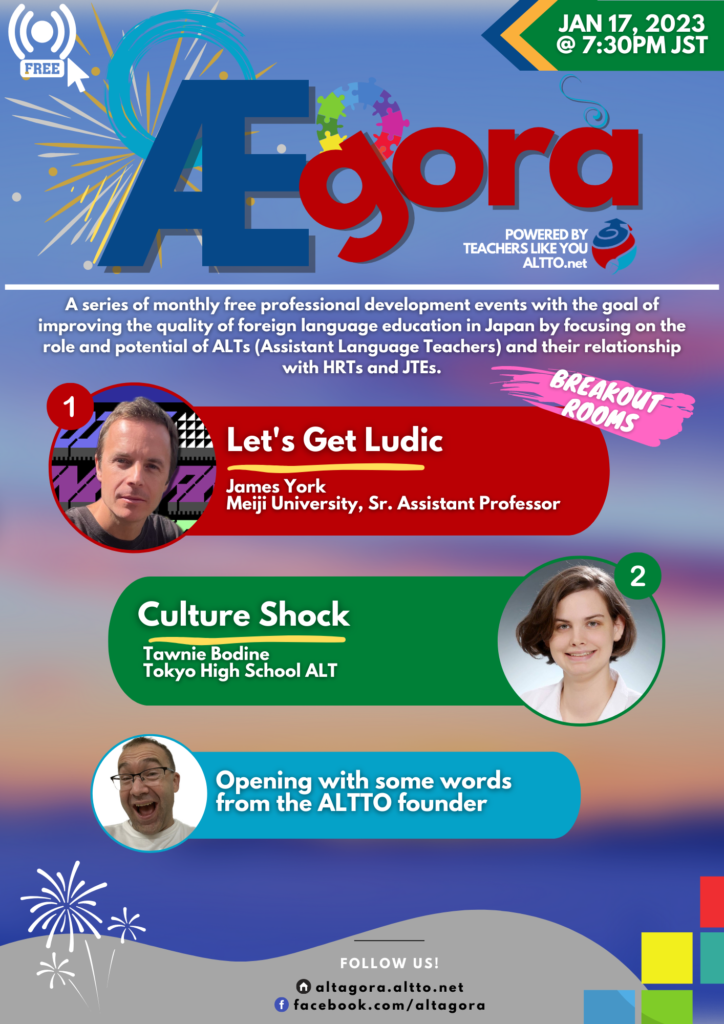 This month, join us to talk about the following topics:
BREAKOUT ROOM 1: Let's Get Ludic!
Speaker: James York (Senior Assistant Professor at Meiji University, Editor-in-Chief of Ludic Language Pedagogy)
Let's get ludic! Ludic is defined as "being playful." But what does that mean for (language) teaching? In this talk, James will introduce many ludic teaching methods which go beyond merely "playing games" and behaviourist "gamification" techniques. Questions considered:
What is play? What does "being playful" mean?
What are the benefits of play for our students, and us teachers?
How can we play? And why should we?
There is ludic in things and there is ludic in you!
BREAKOUT ROOM 2: Culture Shock
Speaker: Tawnie Bodine (High School ALT in Tokyo, former EPIK program participant)
Does this time of the month get you down? Many people are going home to their families or spending time with their spouse. For this lecture, I will talk about my experience with Culture Shock as a traveling ESL teacher. Even though this is my first year on the JET program, I have worked in the EPIK program (an English teaching program based in South Korea) for 4 years. I have gained a lot of experience with this symptom and have a lot of advice to offer those who are facing difficulties living here. Participates will be able to have discussion breaks related to this topic and will be able to share and offer their own advice as well. Participates will also be able to ask any questions or offer their own advice at the end of the lecture.
The speakers that will join us for this event are: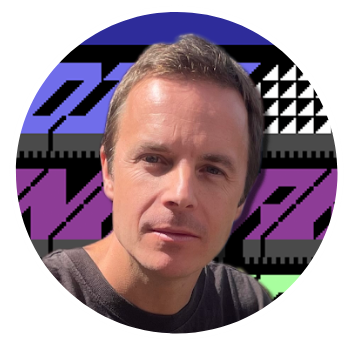 James York
James is a senior assistant professor at Meiji University where he teaches a variety of classes exploring the intersection of games, play, literacy, pedagogy, and society.
He is also the editor-in-chief of Ludic Language Pedagogy, an open-access, open peer-reviewed, independent academic journal.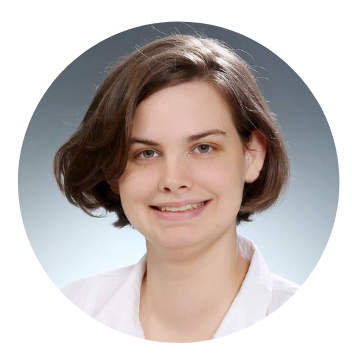 Tawnie Bodine
Tawnie currently works in a High School in Tokyo teaching students OREO-style writing and preparing them for EIKEN exams. She also meets weekly with some students to engage in free conversation to help build their speaking skills. In the past, she has taught in various Elementary schools in Korea for four years through the EPIK program.
As a teacher in Korea, she gained interpersonal skills by collaborating with co-teachers on lesson planning and classroom management. Furthermore, she did volunteer work through language exchanges in Seoul. She met welcoming locals who helped her learn more about their culture. For her future, she hopes to continue her skills as an English teacher by teaching adults in college and making connections with the people she meets.