ALT Agorà – November 8, 2023 – Register Now!
This month, Agorà is honored to be joined by Nami Sakamoto, Assoc. Prof. at Doshisha University, to introduce her research-based studies on team-teaching classes. Join us as we explore the impact of team teaching in English education through an analysis of ALT and Japanese teacher collaborations in high schools and junior highs, offering a glimpse into a future of enhanced student learning at all levels.
When: Wednesday, November 8, 2023, @7:30 pm JST
Where: Online CLICK HERE TO REGISTER

How to join: you will receive the link the day before the event (or on the same day!).
Follow us on FB: https://facebook.com/altagora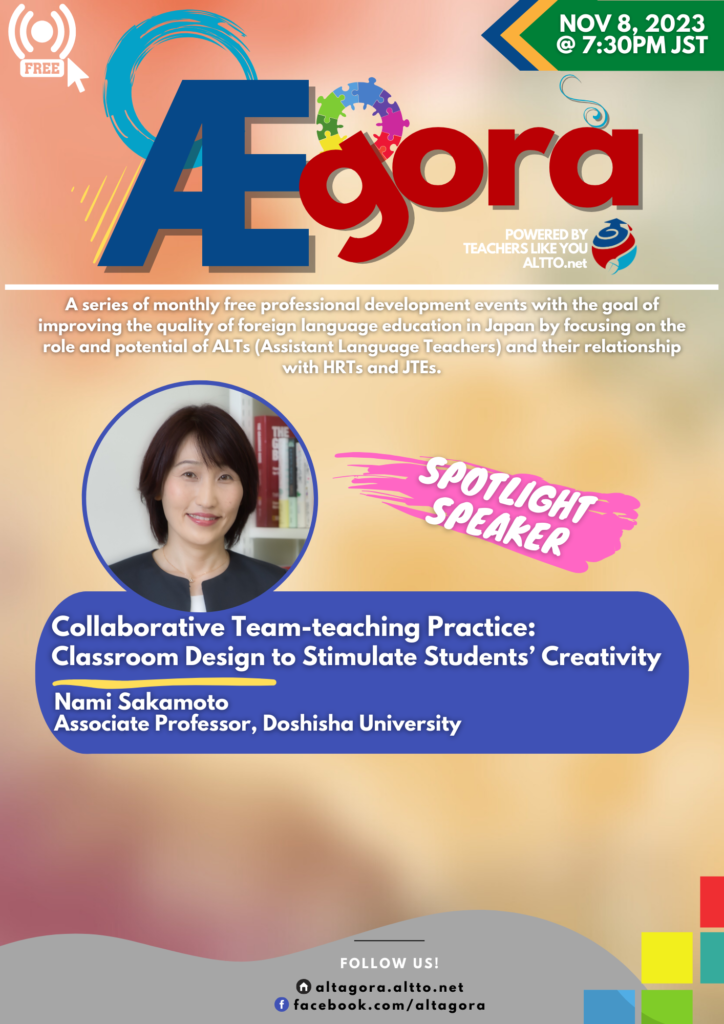 THIS MONTH'S SPOTLIGHT EVENT:
Collaborative Team-teaching Practice: Classroom Design to Stimulate Students' Creativity
Speaker: Nami Sakamoto (Associate Professor, Doshisha University)
In this talk, I will introduce a study on team-teaching classes based on ALT and teacher narrative research. I will focus on an analysis of classroom practice at a high school and a junior high school as well as interviews with ALTs and Japanese teachers who were team teachers, and explore the essence of team teaching. Then, the talk will discuss actual classroom practice in team-taught lessons in elementary and junior high schools. It will touch on the content of Obi activities presented in a workbook created in collaboration with my colleague ALT. This presentation will provide us with an opportunity to discuss the future of English classes that deepen students' knowledge through team teaching practice.
This month's speaker: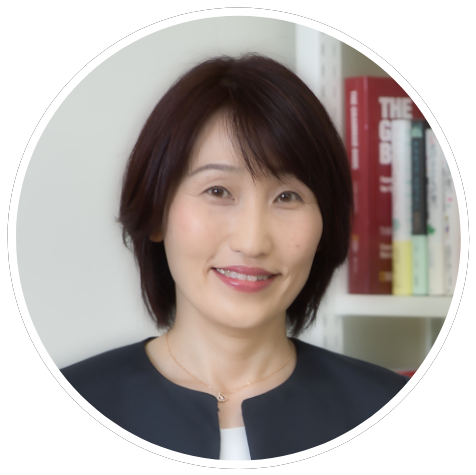 Nami Sakamoto
Nami Sakamoto is an associate professor at Doshisha University where she focuses on teacher identity and professional development of language teachers. After teaching English as a Japanese teacher of English (JTE) at junior high schools for more than twenty years, she moved to university. During her career, she has engaged in team-teaching lessons with more than twenty ALTs. While working at a junior high school, she received a master's degree in English Language Education and a doctoral degree in Environmental Humanities. She studies language teachers' narratives from a sociocultural perspective. In particular, in her analysis of ALTs' narratives, Sakamoto traces teachers' awareness as an essential element in their growth. Additionally, as an approach to classroom practice, she conducts CLIL (Content and Language Integrated Learning) lesson studies and cooperative research, both within and outside Japan.