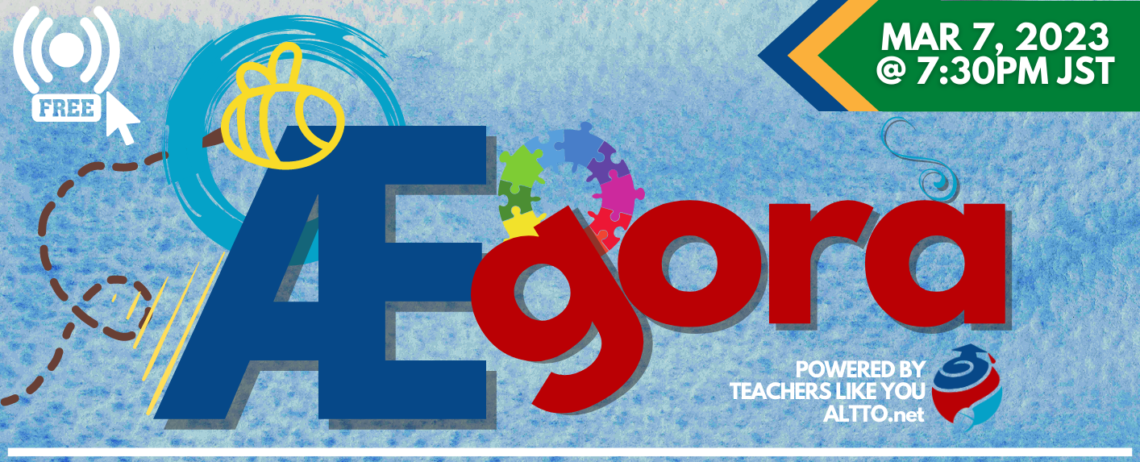 ALT Agorà – March 7, 2023 – Register Now!
As the school year comes to a close, Agorà comes early this month to bring you two practical topics to help you prepare for the next school year with plenty of time to spare! In one room, fun and engaging lessons that can be done with limited prep time; in the other, a step-by-step process for tackling the complex world of teaching phonics — we hope this month you'll have plenty that you can easily apply to your own classes!
When: Tuesday, March 7, 2023, @7:30 pm JST
Where: Online CLICK HERE TO REGISTER

How to join: you will receive the link the day before the event (or on the same day!).
Follow us on FB: https://facebook.com/altagora
This month, join us to talk about the following topics:
BREAKOUT ROOM 1: Lesson Activities for Junior/Senior High School
Speakers: Jara Villanueva-Frio & Kelsey Halbach
Games, games, games – are you looking for more fun, easy, and engaging activities to facilitate student learning in your classroom? Well, look no further because in this presentation we will be sharing some of our best low prep activities that can be applied to various topics and skill levels. After every activity explanation, we will invite participants to discuss how level modifications can be made.
BREAKOUT ROOM 2: An Introduction to Elementary ESL Phonics
Speaker: Boris Müller
I will be giving an introduction and general overview of phonics, and how what seems like a simple system can quickly become complex and confusing if not taught properly. From there, I will try to help prospective teachers to build out in a step-by-step process. I will be covering some of the common misconceptions that exist, as well as the pitfalls to avoid. Something I will briefly touch upon is the added challenge of teaching all of this whilst wearing a mask, as well as remotely. Admittedly, one of these challenges might well not be an issue for much longer. Finally, I will try to end my presentation on a high by suggesting a few fun activities to put it all into context.
The speakers that will join us for this event are:
Jara Villanueva-Frio
Jara Villanueva-Frio studied Food Technology at the University of the Philippines Los Baños where she gained her first teaching experience through the Literacy Training Service, a program designed to train students to teach literacy and numeracy skills to the Filipino youth. After two years of working as a quality assurance analyst for a food manufacturing company, she started her career as an online ESL tutor. She taught English online for more than six years before coming to Japan in 2019 through the JET Programme. Currently, she is in her 4th year of teaching at a senior high school in Nara. She is also a TESOL-certified teacher and holds a TESOL Trainer's Certificate. Her interests include task-based language teaching, game-based learning, and digital realia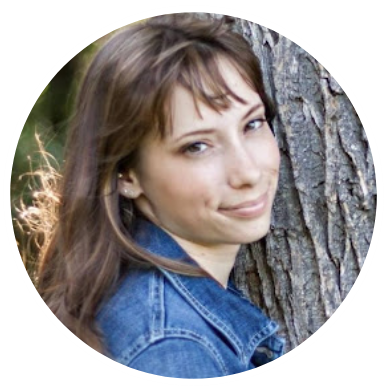 Kelsey Halbach
Kelsey studied at the University of Regina (Canada) where she received her B.A. Hons. in philosophy and B.A. in Japanese. In addition to her degrees, she is a certified TESOL/TESL/TEFL teacher with a specialization in teaching Business English and IELTS & TOEFL Preparation. She began her teaching career as a personal tutor and has been an ALT since 2018. Her academic interests include ethics, epistemology, and philosophy of education.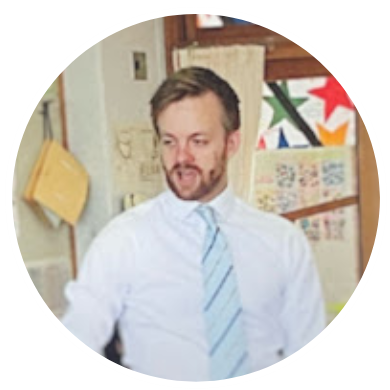 Boris Müller
My name is Boris Müller, and I am 36 years old. I'm half English, and half Swiss. I have been teaching in Japan for almost six years in northern Kyushu, at seven elementary schools and two kindergartens.
Besides my CELTA and US teaching license (pending), I have a BA in Graphic Design from Kingston University near London. The course taught me how to develop ideas, present them to clients and convince them to take a chance on something challenging. This has translated rather well into teaching, where standing in front of a room of incredulous children and helping them to understand you is the key. This is not a career for the introverted.
Outside of school I love music, especially electronica, world, and classical. I have also presented several radio shows on a digital station. In spite of this I hate the sound of my own voice.
I enjoy cooking, swimming and have traveled extensively throughout Europe. I avidly follow Formula One and ice hockey, and plan to one day own the Vancouver Canucks.