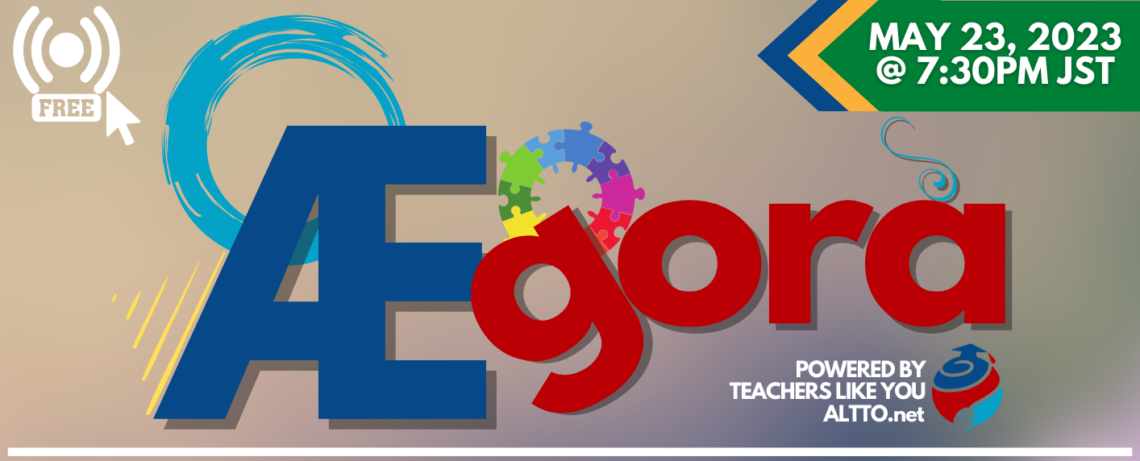 ALT Agorà – May 23, 2023 – Register Now!
Energized from Golden Week or shaking off those post-vacation blues? Agorà returns again this May to help you get back in the saddle! This month, we're proud to bring you two talks to cover topics for students of all ages. In the first room, Agorà's very own Jara Villanueva-Frio & Kelsey Halbach continue their March talk on activities for Junior and Senior HS students; in the second room, Martin Sedaghat of the Niigata University of Health and Welfare International Preschool joins Agorà once again to discuss the use of "circle time" with young learners to build language skills and more. Whatever your goals, we're sure you'll find what you're looking for. So register today — we can't wait to see you!
When: Tuesday, May 23, 2023, @7:30 pm JST
Where: Online CLICK HERE TO REGISTER

How to join: you will receive the link the day before the event (or on the same day!).
Follow us on FB: https://facebook.com/altagora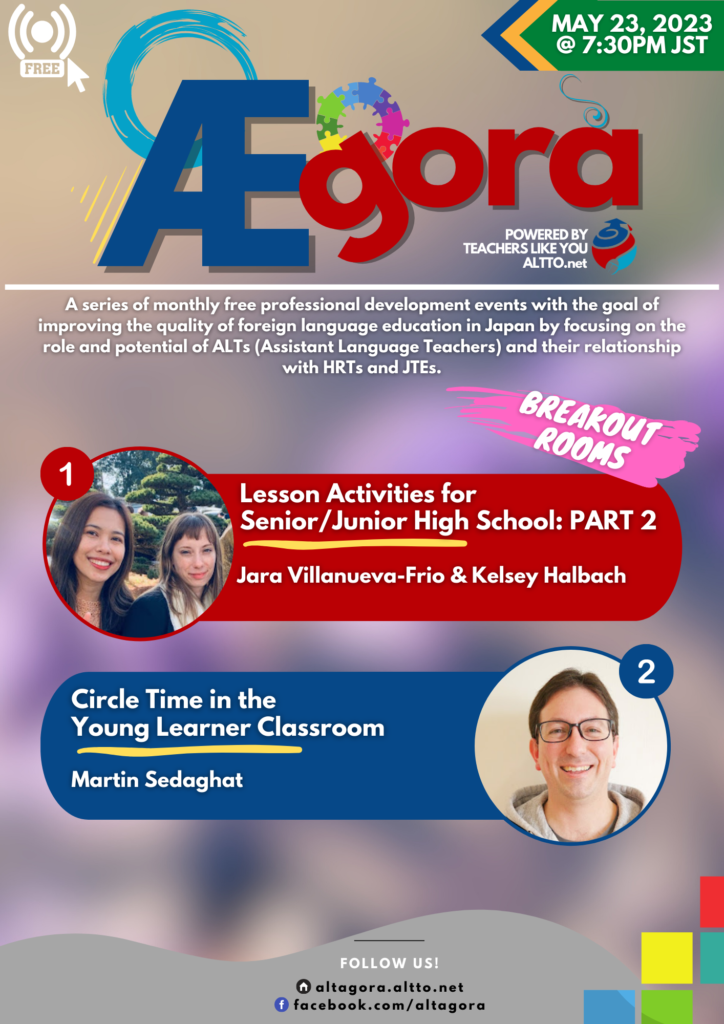 This month, join us to talk about the following topics:
BREAKOUT ROOM 1: Lesson Activities for Junior/Senior High School ~PART 2~
Speakers: Jara Villanueva-Frio & Kelsey Halbach
Games, games, games – are you looking for more fun, easy, and engaging activities to facilitate student learning in your classroom? Well, look no further because in this presentation we will be sharing some of our best low prep activities that can be applied to various topics and skill levels. After every activity explanation, we will invite participants to discuss how level modifications can be made.
BREAKOUT ROOM 2: Circle Time in the Young Learner Classroom
Speaker: Martin Sedaghat
Circle time is an opportunity for young learners to create a daily routine, build a sense of community, and develop social-emotional skills. It can also be a tool to review language points and establish an atmosphere for learning. This presentation will share a recommended structure for circle time and a number of tasks to help learners to share their thoughts and feelings, practice language skills, and set the tone for the rest of the lesson.
The speakers that will join us for this event are: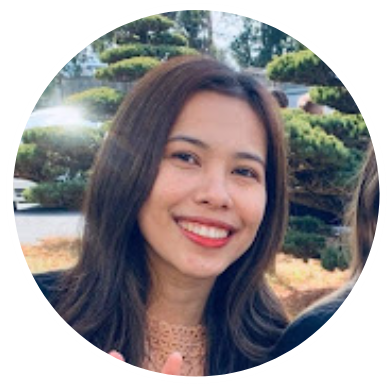 Jara Villanueva-Frio
Jara Villanueva-Frio studied Food Technology at the University of the Philippines Los Baños where she gained her first teaching experience through the Literacy Training Service, a program designed to train students to teach literacy and numeracy skills to the Filipino youth.  After two years of working as a quality assurance analyst for a food manufacturing company, she started her career as an online ESL tutor. She taught English online for more than six years before coming to Japan in 2019 through the JET Programme. Currently, she is in her 4th year of teaching at a senior high school in Nara. She is also a TESOL-certified teacher and holds a TESOL Trainer's Certificate. Her interests include task-based language teaching, game-based learning, and digital realia.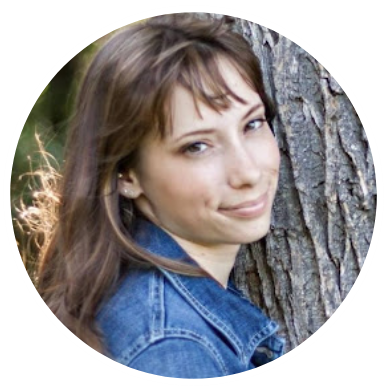 Kelsey Halbach
Kelsey studied at the University of Regina (Canada) where she received her B.A. Hons. in philosophy and B.A. in Japanese. In addition to her degrees, she is a certified TESOL/TESL/TEFL teacher with a specialization in teaching Business English and IELTS & TOEFL Preparation. She began her teaching career as a personal tutor and has been an ALT since 2018. Her academic interests include ethics, epistemology, and philosophy of education.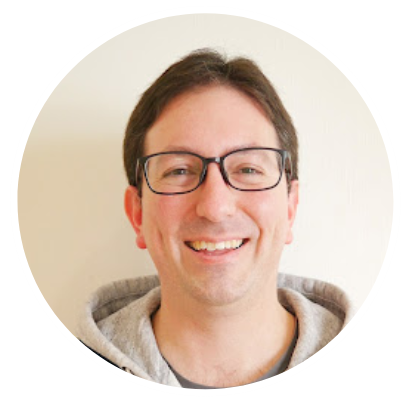 Martin Sedaghat
Martin Sedaghat is the English teacher and program designer for the Niigata University of Health and Welfare International Preschool.  He has lived in Niigata since 2003 and taught at the elementary, junior high, and high school levels.  He is currently studying for his MA in TESOL, and serves as the program chair for the JALT Teaching Younger Learners special interest group.